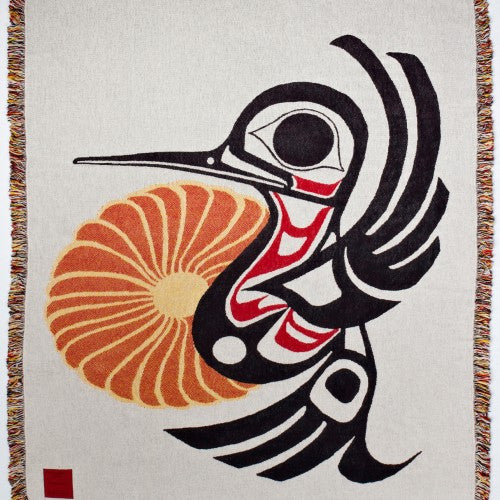 Woven Art & Beyond LLC
Joe Mandur, Jr.© "Hummingbird" NW Native Art Tapestry Throw Blanket
Intricate and cultural Hummingbird design of Native Northwest Haida Artist Joe Mandur, Jr.  In Native American tradition, each animal holds a different meaning, allowing you to truly offer a loved one a personal gift by finding the meaning that most represents them.
Recreated in a three layer Jacquard woven throw blanket. The throw is fringed and has the thickness of 3 layers providing weight, warmth and comfort…the perfect addition to any home.
Hummingbird - A symbol of joy, love and beauty. The Hummingbird is able to fly backwards, teaching us that we can look back on our past, but that we must not dwell on it, we need to move forward. This creature is the one that opens the heart. When the hurt that caused us to close our hearts gets a chance to heal, our hearts are free to open again.
Size:  48" x 67"
Artist:  Joe Mandur, Jr.
Design:  Hummingbird
Content:  100% Cotton, Jacquard Woven
Care Instructions: Machine wash separately in cold water on gentle cycle. Tumble dry low heat.
USA Made
About Artist:
Joe Mandur's talents blossomed after the rebirth of the North Coast Native art. His Haida name is 7iidgyaa Kauyss which means ˜Our Precious One'. Experienced with the mediums of stone, wood, metal and paper, Joe was surrounded by fine native carving at an early age. He continues to explore the carved form in both traditional and non-traditional media, always showing a deep respect for traditional elements of Haida design. Art gives voice to the conformist and non-conformist in his personality; his intelligence and wit shine through in his pieces.
---
Share this Product
---
More from this collection