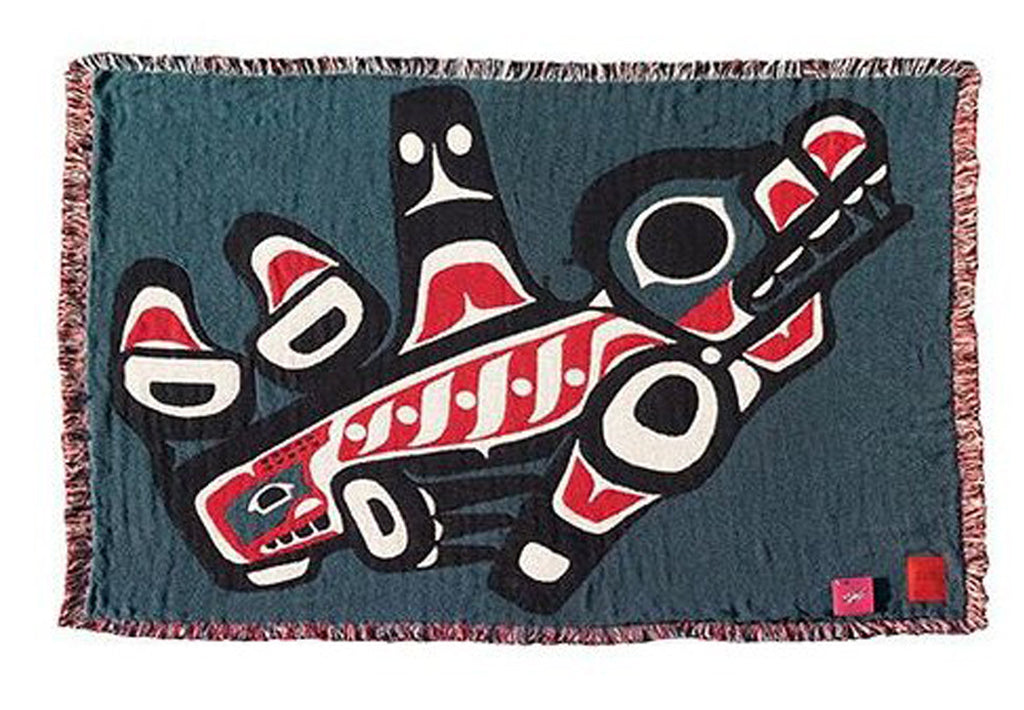 Woven Art & Beyond LLC
Joe Mandur, Jr.© "Killer Whale" NW Native Art Tapestry Cotton Throw Blanket
Intricate and cultural Killer Whale design of Native Northwest Haida Artist Joe Mandur, Jr.  In Native American tradition, each animal holds a different meaning, allowing you to truly offer a loved one a personal gift by finding the meaning that most represents them.
Recreated in a three layer Jacquard woven throw blanket. The throw is fringed and has the thickness of 3 layers providing weight, warmth and comfort…the perfect addition to any home.
Killer Whale Always regarded with respect and awe by the Northwest Coastal Indians, the Killer Whale is the subject of much fantasy and superstition. Legends encourage living in harmony with these mammals. They symbolize family, romance, longevity, harmony, travel, community and protection. They are said to protect those who travel away from home, and lead them back when the time comes. The Killer Whales live like wolves, and are often referred to as the wolves of the sea, because they mate for life and raise each child with care. They also travel in large groups of families, working together to protect all members of their pod.
Size:  48" x 67". 
Artist:  Joe Mandur, Jr.
Design:  Killer Whale
Content:  100% Cotton, Jacquard Woven
Care Instructions: Machine wash separately in cold water on gentle cycle. Tumble dry low heat.
USA Made
About Artist:
Joe Mandur's talents blossomed after the rebirth of the North Coast Native art. His Haida name is 7iidgyaa Kauyss which means ˜Our Precious One'. Experienced with the mediums of stone, wood, metal and paper, Joe was surrounded by fine native carving at an early age. He continues to explore the carved form in both traditional and non-traditional media, always showing a deep respect for traditional elements of Haida design. Art gives voice to the conformist and non-conformist in his personality; his intelligence and wit shine through in his pieces.
---
Share this Product
---
More from this collection