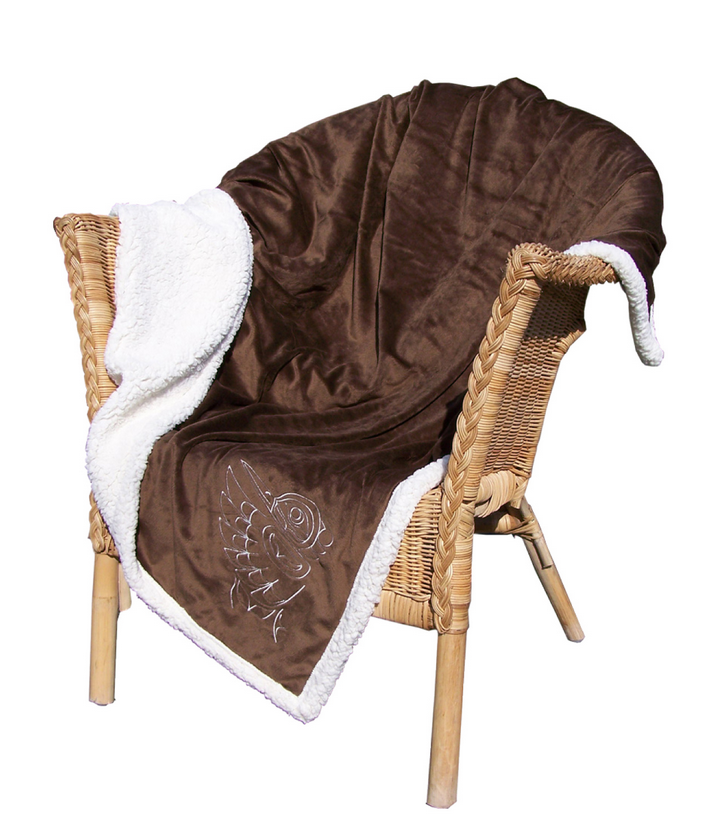 Woven Art & Beyond LLC
Randy Wisla© "Hummingbird" Embroidered Lambswool Throw - Chocolate
Hummingbird Country Lambswool throw, which indigenous artist Randy Wisla incorporates his simple yet elegant Hummingbird design onto this delightfully snug and super-soft Lambswool Throw. 
This lambswool throw is available in chocolate brown. Reversible,  self-hemmed throw. Micro fur reversed with super-soft faux lambswool.  Great quality, cozy and warm and washes up beautifully. A gift people will love to receive.
In Native American culture, the Hummingbird signifies peace, love, joy and happiness. Hummingbirds are depicted in their symbol as a mated pair and represent devotion, eternity and life. The Hummingbird is able to fly backwards, teaching us that we can look back on our past but that we must not dwell on it — we need to move forward. This creature is the one that opens the heart. When the hurt that caused us to close our hearts gets a chance to heal, our hearts are free to open again. Many Native Americans see the Hummingbird as a symbol of good luck.
Randy Wisla himself describes Hummingbirds as "joyful messengers who represent peace, affection and good fortune. The Hummingbird is a living rainbow that captures the sunlight and turns it into a jewel on its wings, signifying love, beauty and healing."
Please Note:  Designs can be embroidered onto any color blanket available.
Size:  50" x 60"
Artist: Randy Wisia
Color: Chocolate with White Embroidered Hummingbird
Content: 100% Polyester
Origin: USA Made.
Care Instructions:  Machine wash separately with cold water on gentle cycle. Tumble dry low heat. No bleach and no iron. 
An ideal way to celebrate any trip to the North West is with an item that is unique to this region and carries much significance in the native community.
About The Artist:
Randy Wisla, proud member of the Carrier Nation of North Central British Columbia, finds personal strength and inspiration from his culture and his elders. As the son of established Northwest Coast Native carver Charles Harper, he developed his creative skills early in life by sketching with pencils and pastels. The process of deconstructing the world and reconstructing it through a piece of art was taught to Randy through his apprenticeship with his father. For Randy, there are no creative limits to his work as an artist.
---
Share this Product
---
More from this collection