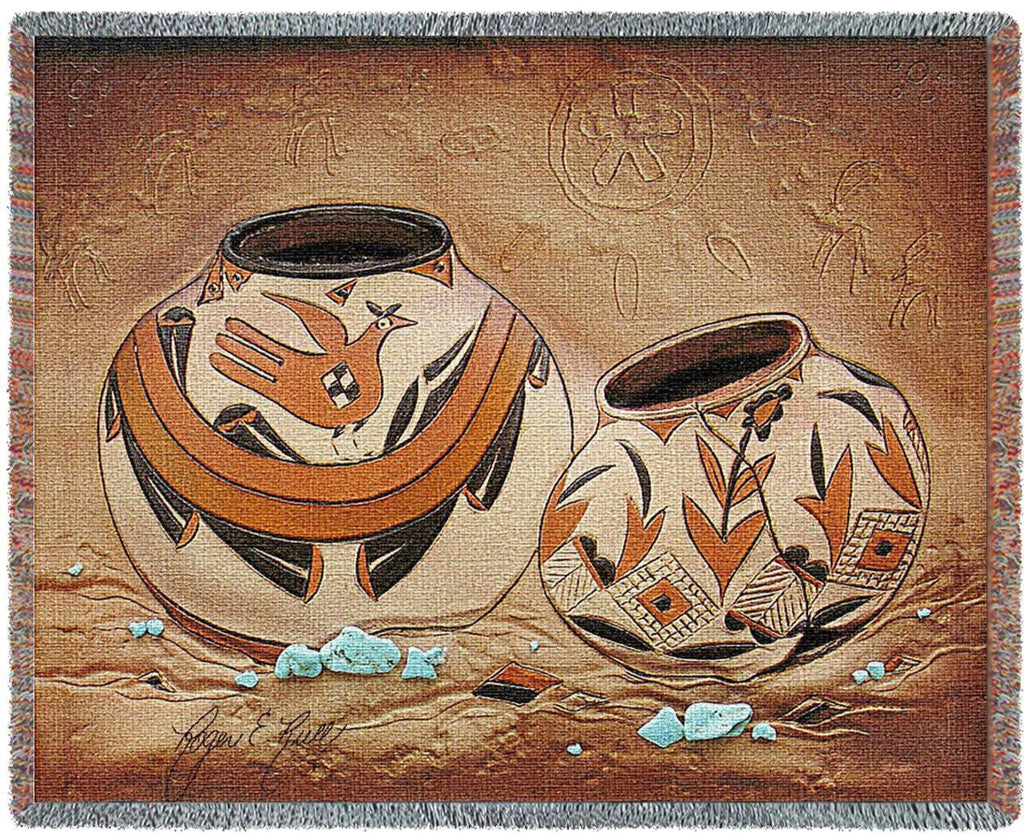 Woven Art & Beyond LLC
Zuni Woven Throw Blanket by Roger Kull©
Talented artist Roger Kull painted this pretty Native American Southwest inspired still life which was woven into a tapestry throw blanket. It depicts two sturdy earthenware pots, each uniquely detailed and colorful. Set against a backdrop of a textured clay colored wall, with chunks of natural turquoise scattered about, there is much to enjoy here.  Handcrafted from skilled artisan weavers in USA textile mills on Jacquard Looms.
Size:  70" x 54"
Artist:  Roger Kull
Motif:  Native American Southwest
Contents: 100% Cotton, Jacquard Woven
Care: Machine Wash Gentle (no bleach), Dry or hang. 
USA Made 
Ships in one to two weeks
Native American inspired blankets invoke the rich history of our continent, its people and our connection to the earth and all its inhabitants.  We work with designs inspired by Native Americans from all over including the Southwest and the Pacific Northwest.  
The land, the sea the birds and trees all come into play to tell a story on a woven blanket.  We start with yarn dyed 100% cotton thread and work up to a colorful blanket.  It takes over eight miles of yarn to make each blanket.  Once a blanket comes off our jacquard looms, it is washed and dried in our laundry, hand folded and delivered to you.  Discover the richness in colors from yarn dyed cotton and the personal touch of a vintage weaver.  
---
Share this Product
---
More from this collection