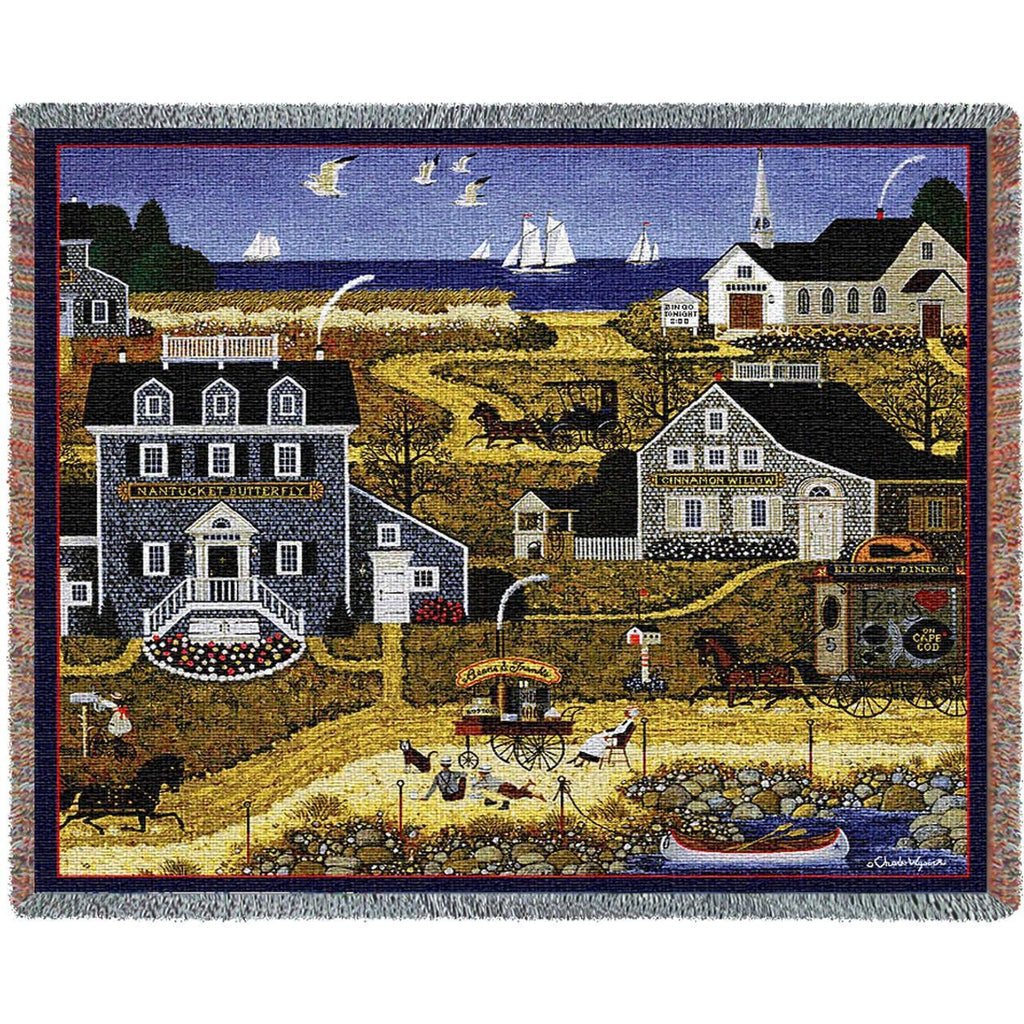 Woven Art & Beyond LLC
Salty Witch Bay Woven Throw Blanket by Charles Wysocki©
Charles Wysocki Salty Witch Bay Throw. Revel in the elegance and whimsy of seaside life in a horse-drawn era when the pace was slower and people took the time to chat and catch up on all the family and local news of "Salty Witch Bay." Handcrafted from skilled artisan weavers in USA textile mills on Jacquard Looms. These 100% cotton throw blankets make perfect gifts and welcome additions to any home.
Size: 54" x 70"
Motif: Coastal, Nautical, Tropical
Contents: 100% Cotton, Jacquard Woven
Care: Machine Wash Gentle (no bleach), Dry or hang. 
USA Made
Ships in one to two weeks.
About Charles Wysocki:
Charles Wysocki was an American painter (1928-2002), whose works depict a stylized version of American life of yesteryear. Wysocki came to appreciate a simpler, more rural life than that of the big city. His many trips to New England served to nurture his interest in early American Folk Art.  As he said of his work, "I hope my paintings revive pleasant thoughts of order and security, much needed in this fast-paced world." 
"In my paintings, I want to hit every emotion I can – from the sublime to the silly," Charles Wysocki said. He was remarkably successful in his endeavors, as a legion of fans and art collectors can attest. The love of life, with all its wit and wisdom, poetry and emotion, sights and sensations, is captured in his work. "There is a simple message in my work," Wysocki said, "and it is love."
---
Share this Product
---
More from this collection