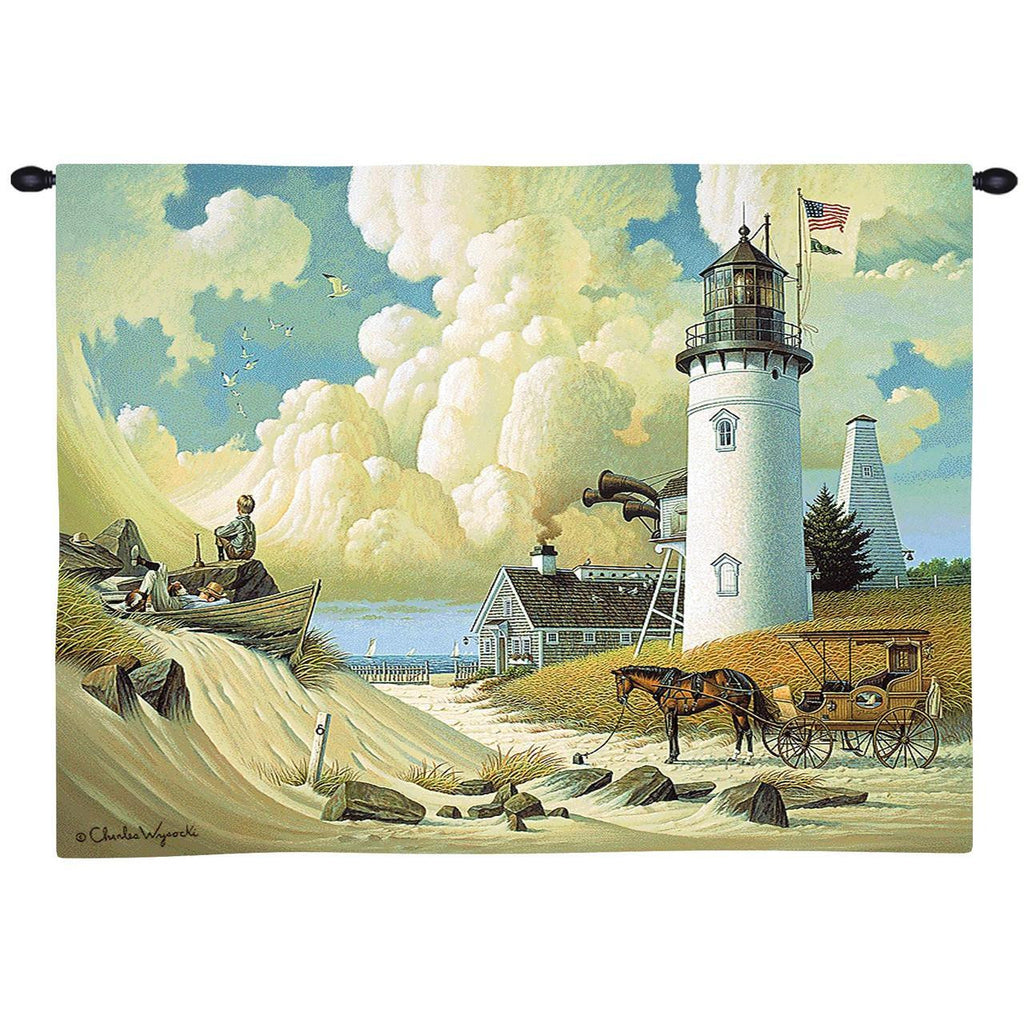 Woven Art & Beyond LLC
Dreamers Wall Tapestry by Charles Wysocki©
Charles Wysocki's Dreamers, Jacquard woven into a wall tapestry creating true depth, texture and richness not found in traditional home decor. On a warm summer's day on Cape Cod, two boys have taken a horse and buggy to the dunes where they can dream away the day. 
Each fine art tapestry is handcrafted by skilled Artisan Weavers in USA textile mills using between nine and eighteen miles of thread. These Fine Art Wall Tapestry Hangings are of superior quality and definition - Museum Quality!.
The combination of the thread colors and weaving creates a unique art experience that changes with each viewing angle. It draws the viewer into the depth and texture of the image while adding an acoustic elegance to any room decor. 
Size:  26"W x 34" 
Artist:  Charles Wysocki
Motif:  Coastal
Contents: 100% Cotton, Jacquard Woven. Hand finished.
Dowel Rod:  Sold separately
Care: Spot Clean
USA Made
Usually Ships in approximately 1-2 weeks
About Charles Wysocki:
Charles Wysocki was an American painter (1928-2002), whose works depict a stylized version of American life of yesteryear. Wysocki came to appreciate a simpler, more rural life than that of the big city. His many trips to New England served to nurture his interest in early American Folk Art.  As he said of his work, "I hope my paintings revive pleasant thoughts of order and security, much needed in this fast-paced world." 
"In my paintings, I want to hit every emotion I can – from the sublime to the silly," Charles Wysocki said. He was remarkably successful in his endeavors, as a legion of fans and art collectors can attest. The love of life, with all its wit and wisdom, poetry and emotion, sights and sensations, is captured in his work. "There is a simple message in my work," Wysocki said, "and it is love."
---
Share this Product
---
More from this collection